by Upflow Brewing
Upflow Classic Pale Ale 375mL
Rating: 4.066666666 out of 5.0
Pickup currently unavailable
0.5% ABV
Product of Australia
The breweries of Europe set the stage for these cans of Upflow Pale Ale. Malt from Munich provides rich flavours of toasted caramel. Hallauer hops from Switzerland and Saaz hops from the Czech Republic offer that classic bitterness you've come to expect from a pale ale. It's full-bodied, balanced, and what's more - Upflow Pale Ale has only 0.5% ABV.
Customer Reviews
Write a Review
Ask a Question
18/03/2021
Anonymous

Australia
I recommend this product
Barely OK
This one was very lack lustre and boring. It seems like an attempt at a beer for the masses but really lacks in flavour. Very hard to describe, but maybe bready and beery? Could be ok cold after mowing the lawn, but couldn't drink more than a can. Sorry Upflow - for the price, a bit of a shame.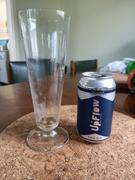 16/12/2021
Anonymous

Australia
Will order again
Very nice, would order again for sure. I think maybe it's the carbonation level that is lacking just a little on this one but the flavour is good.
09/10/2021
Andy B.

Australia
I recommend this product
Favourite so far
I've been enjoying exploring the beers at Craftzero. This one is my favourite so far. A great tasting beer and you don't miss the alcohol.
20/09/2021
John H.

Australia
Good flavour
I tend to prefer IPAs but this is good for a lighter change. Certainly recommended for its flavour and a degree of depth.
30/08/2021
Andrew

Australia
Just couldn't get into this one.
I found it a bit lacking. If you're still hunting around for a "no alco" beer to like, this one _might_ work for you, but it didn't really work for me. (ie I'd still recommend it, after all three is more than 2.5!)