Upflow Coconut Brown Ale 375mL
UPFCOCOBA3751
<0.5% ABV
Exclusive Limited Edition Collective Brew
Vegan Friendly
Product of Australia

Introducing another limited-edition brew which has been created specifically for Craftzero from our friends over at Upflow. This decadent dark beer is inspired by one of our favourite chocolate bars. A brown ale brew with a seriously complex malt bill that includes layers of chocolate and toasted malts. When you combine that with rich, sweet coconut, you have a mouthful of fun and one delicious, refreshing beer. Oh and how could we forget, this beer is also completely alcohol-free meaning you can enjoy it anytime and anywhere. We highly recommend trying out this limited edition coconut brown ale before it's all gone and you miss your chance, trust us, you will not be disappointed!
Nutritional Information
Ingredients
Info per 100mL: Energy 21 Cal / Protein less than 1g / Total Fat less than 1g / Carbohydrates 4.5g / Sugars 1.4g / Sodium 2.4mg
Customer Reviews
Write a Review
Ask a Question
01/10/2021
Mark A.

Australia
I recommend this product
Good stout style.
Good solid flavours. The coconut is pretty subtle and I havr enjoyed upflow stout before. This one takes the flavours up a notch or 2. Ill be getting more next delivery.
19/10/2021
Ben

Australia
14/10/2021
Anonymous

Australia
A delicious Brown Ale
This is a really lovely, malty Brown Ale and a great tasting, refreshing beer. Can't say I found any hint of coconut (or that 'Bounty' taste that was advertised) but I do love the bitter, Chocolatey aftertaste on the palate. I would definitely purchase this one again but would suggest renaming this guy. 1 star deducted for the expection set.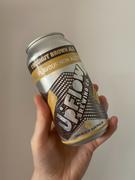 07/10/2021
Anonymous

Australia
I recommend this product
Disappointing
I was really looking forward to this one as I'm a huge fan of dark beers (particularly brown ales) and of Upflow. It just wasn't there - I found it to be too soft on flavour, little body and just not memorable. I really enjoy the rest of Upflow, so I'm not sure why this one didn't have it. Side note re: packaging - the box I received was far too big for the single beer inside! I was confused as to whether there was meant to be something else in there too. Please be mindful of your packaging as it seemed very wasteful.