Pickup currently unavailable
One bottle of Seedlip Garden 108 + 4pk of Fever-Tree Mediterranean Tonic
Travel to the English countryside without leaving your living room
Why did we bundle the non-alcoholic spirit Seedlip Garden 108 and the Fever-Tree Mediterranean Tonic Water?
Because they are a match made in heaven. Seedlip Garden 108 evocative notes of rosemary, spearmint, and sugar-snap peas are remindful of the English countryside. This blends perfectly with the essential oils from the flowers, fruits, and herbs uniquely crafted in the Fever-Tree Mediterranean Tonic Water.

For the contemporary and nostalgic drinker who wants to travel back to England even if he can't. This pack is the perfect gift to your sober-curious friends or yourself.

Each pack contains:

1 x 700mL bottle of Seedlip Garden 108
4 x 200mL of Fever-Tree Mediterranean Tonic
1 x Seedlip Box
Disclaimer: If Fever-Tree Mediterranean is out of stock, we will substitute with Fever-Tree Premium Indian Tonic
Customer Reviews
Write a Review
Ask a Question
21/12/2020
Penelope T.

Australia
I recommend this product
Penelope
I decided to get off the booze after drinking for a thousand years ( seems that long ! ) I discovered Seedlip after googling around for ZERO alcohol spirits and wine. I can not recommend this highly enough - I'm loving it !!!! There are 3 different types of this Seedlip - and I like them ALL . The Fever Tree tonic is also delicious . Give it a try - I'm pretty sure you'll be pleasantly surprised by how good it IS .... and as an added bonus it has NO CALORIES !!!!! Cheers everyone .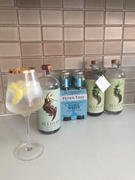 28/02/2021
Anonymous

Australia
I recommend this product
Grassy G&T
Great as a G&T mix with a different taste, sophisticated grass notes which go well with lime and neutral tonics.
03/02/2021
Nicola K.

Australia
I recommend this product
Deliciously Unusual
The flavours of Seedlip are a sensation for the taste buds, fever tree tops it off beautifully and tastes much better than the customary G & T