Lucky Saint Superior Unfiltered Alcohol Free Lager 330ml
LSUL3301
by Lucky Saint
Proudly an unfiltered lager, Lucky Saint, boasts a biscuit malt flavour. Brewed with Bavarian Spring Water, Pilsner Malt and Hallertau Hops, it finishes with a smooth citrus hop. At 0.5% alcohol Lucky Saint is full of substance and refuses to compromise on taste. Enjoy chilled.
Customer Reviews
Write a Review
Ask a Question
06/06/2021
RH

Australia
One of the best AF beers I've tried
This beer is so refreshing and taste great! I honestly prefer this beer over some full strength, it's that good. If it wasn't so expensive I'd buy it more often.
04/06/2021
Ryan M.

Australia
Amazing
This was a lovely crafted lager. Perfectly balanced. Would buy again.
06/04/2021
Anonymous

Australia
Lucky Saint unfiltered alcohol free lager.
Not a beer drinker myself, but my husband loves a good lager and now leaves his Peroni languishing on the shelf in favour of Lucky Saint! It must be worth 5 stars!
08/01/2021
Craig D.

Australia
Best NA beer you will ever try!
This is honestly the best NA beer you could ever have, it's as good, if not better than alot of regular beers. With a nice unfiltered bright golden amber colour, great head and lacing, great full body delivering a crisp refreshing taste without the sweetness that most NA beers have, nice sublte yeast flavour thanks to not being filtered. Definitely one of the best NA lagers available, a real pint at the pub kind of beer A++++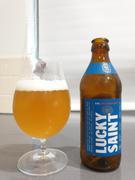 08/12/2020
Chris R.

Australia
Chris R.
This was quite full bodied for a non-alcoholic lager, certainly more so than some of the other mass-produced stuff around. The initial 3-4 gulps feel like you're drinking an alcoholic beer. This would be awesome in a beer garden on a hot day.