Lucky Saint Unfiltered Lager 330mL
LSUL3301
Proudly an unfiltered lager, Lucky Saint, boasts a biscuit malt flavour. Brewed with Bavarian Spring Water, Pilsner Malt and Hallertau Hops, it finishes with a smooth citrus hop. At 0.5% alcohol Lucky Saint is full of substance and refuses to compromise on taste. Enjoy chilled.
Shipping
All orders are shipped within 24 hours of being completed from our Sydney warehouse. Orders completed on weekends or public holiday will be processed the next business day. Most deliveries take approximately 1 to 4 business days to arrive, depending on your location and shipping service selected. Please allow up to 5-10 business days for WA, NT, Tasmania and regional areas. You will receive a tracking number once your order has been shipped to keep you informed about the status of your delivery.
Customer Reviews
Write a Review
Ask a Question
I recommend this product
You wouldn't know it was alcohol-free...
This is the best AF beer I've tried, and the one that does the best job of actually tasting like an alcoholic beer. It's not just a great AF beer, it's just a great beer, period. Great flavour, and a very convincing German style lager. This happily sits alongside my alcoholic beers, and is great for adding a little balance and restraint to my consumption.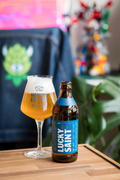 Lucky saint lager
Lovely taste. Will buy again
Great drop
Enjoyed this beer. Refreshing flavour, crisp taste. Would be hard pressed to pick this for an AF beer.