Nirvana Hoppy Pale Ale 330mL
NHPA3301
Customer Reviews
Write a Review
Ask a Question
28/06/2021
Robert

Australia
I recommend this product
Great hoppy pale
I work in a brewery so I drink a lot of different beers. This hoppy pale is a stand out in the field of low alcohol pale ales. On first pour you are hit with a waft of resinous, tropical hops. Pouring clear with a pale head, this beer is crisp and refreshing. A great substitute for a higher ABV pale, and a great introduction to the world of low alcohol beers.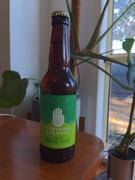 17/11/2020
Kerry S.

Australia
I recommend this product
Awesome Ale
What a fantastic drink, hoppy, fresh and delicious. I will definitely be making this my go to drink over summer.
20/09/2021
Anonymous

Australia
Interesting
This one was interesting, lived the hoppiness but there was a familiar scent of an essential oil or something. Might be better consumed with food.
16/08/2021
Shane B.

Australia
I recommend this product
Pretty good.
Definitely happy with this beer. Has a bitterness and isn't overly citrusy. Will buy again after completing the catalog.
03/12/2020
Geoff W.

Australia
Not bad
Good hoppiness - a little watery on the mouthfeel