Big Drop Galactic Milk Stout
BDSCAN3301
by Big Drop
0.5% ABV

91 Calories per Serve

Low Gluten

Product of Australia
A multi-winner at the World Beer Awards. This alcohol-free stout is an unexpected delight. It is unashamedly chocolatey with lush barley and hops combination, making it a decadent treat of a beer. Imagine the flavours of honeycomb covered in rich chocolate. Rich, unctuous and worth savouring. Big Drop Galactic Milk Stout - Alien Invasion Rocket To The Moon.
Disclaimer; Big Drop Galactic Milk Stout bottles are made in the UK
Nutritional Information
(per 100ml): Energy 98.8kJ / 27.5kcal, Fat 0.2g (of which saturates <0.1g), Carbohydrates 5.9g (of which sugar 4.1g), Protein <0.5g, Salt <0.1g
Ingredients
Water, barley, oats, rye, hops, yeast, lactose (milk), cocoa nibs. Contains: MILK 
Customer Reviews
Write a Review
Ask a Question
15/10/2021
Riikka H.

Australia
11/09/2021
Tait J.

Australia
I recommend this product
Tait Jenkin
Thoroughly enjoyed the Big Drop Galactic Milk Stout. Perfect for getting you through those Winter months!!!
29/08/2021
David S.

Australia
I recommend this product
Intergalactic!!!
Beautiful and so much like a full strength Stout. Big ballsy flavours and easy to drink. Delicious
28/07/2021
Sean M.

Australia
I recommend this product
Great for guilt free night cap!!!
This beer is hoppy, malty and mocha-ry. It has a good level of bitterness and carbonation. When ***** you instantly notice it's full bodied-ness which makes it feel like you're drinking a proper beer.
06/07/2021
Sharon O.

Australia
Gluten free alternative Stout!
Makes a great addition for Steak pie (gluten free) - compliments all round!! Don't drink beer/stout but not bad tasting. Highly recommended.
27/06/2021
David

Australia
02/06/2021
Christine G.

Australia
I recommend this product
Outstanding- good enough to prank your mates!
Seriously good, a game-changer to anyone cynical about whether AF stout could be a real alternative. I won't say it's identical to alcoholic stout, but it is a proper grownup drink with nuance and body. It's allowed me to cut my 'real' drinks by at least 75% with no grief or FOMO.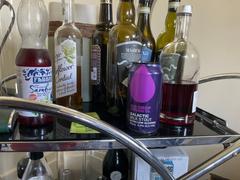 26/05/2021
Jules M.

Australia
Yes yes and yes
Top drop that is as stout with alcohol! Has a beautiful roasted coffee and chocolate thing going on with the barley and oat notes singing in unison. Yep ' still drinking it' Oh what a feeling....
19/05/2021
Benn H.

Australia
24/04/2021
Gaynor R.

Australia