by Big Drop
Big Drop Galactic Milk Stout 375mL
Pickup currently unavailable
FREE TOTE BAG WHEN YOU BUY A CASE
0.5% ABV

91 Calories per Serve

Low Gluten

Product of Australia
A multi-winner at the World Beer Awards. This alcohol-free stout is an unexpected delight. It is unashamedly chocolatey with lush barley and hops combination, making it a decadent treat of a beer. Imagine the flavours of honeycomb covered in rich chocolate. Rich, unctuous and worth savouring. Big Drop Galactic Milk Stout - Alien Invasion Rocket To The Moon.
Nutritional Information
(per 100ml):Â Energy 98.8kJ / 27.5kcal, Fat 0.2g (of which saturates <0.1g), Carbohydrates 5.9g (of which sugar 4.1g), Protein <0.5g, Salt <0.1g
Ingredients
Water, barley, oats, rye, hops, yeast, lactose (milk), cocoa nibs. Contains: MILK 
Customer Reviews
Write a Review
Ask a Question
15/11/2021
Peter R.

Australia
15/10/2021
Riikka H.

Australia
27/06/2021
David

Australia
02/06/2021
Christine G.

Australia
I recommend this product
Outstanding- good enough to prank your mates!
Seriously good, a game-changer to anyone cynical about whether AF stout could be a real alternative. I won't say it's identical to alcoholic stout, but it is a proper grownup drink with nuance and body. It's allowed me to cut my 'real' drinks by at least 75% with no grief or FOMO.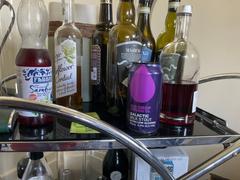 26/05/2021
Christian A.

Australia
19/05/2021
Benn H.

Australia
24/04/2021
Gaynor R.

Australia
08/04/2021
Anonymous

Australia
05/03/2021
Mark A.

Australia
18/01/2022
Paul R.

Australia
I recommend this product
Very disappointing after believing reviews here :-(
After all the positive reviews I read on this product here, I grab a carton...very excited...finally a good non-alcoholic beer that appeals to my love of stout. Upshot: pretty undrinkable...so I am now using this for cooking! It pours like a coke, and smells funny, and then is REALLY bitter...I drink a wide variety of stouts, and I simply cannot recommend this product.